3D visualization using jMonkeyEngine – instruction
3D visualization using jMonkeyEngine v2 (the graphics engine written in Java) may cause some minor problems when you try to create a standalone application. The problem occurred when trying to link native libraries.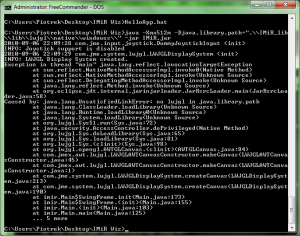 java.lang.UnsatisfiedLinkError: no lwjgl in java.library.path

I provide a way to solve this problem (Windows).
1. During the first steps in the tutorial will guide us JME:
2. Export to a file jar
In Eclipse:
Plik -> Export -> Runnable JAR File
3. Linked native libraries
Copy the directory with the native libraries lwjgl so they found themselves in "lib \ lib \ lwjgl \ native \ windows \" relative to our JAR file. In a directory with the JAR file, create a file "start.bat" and supplement it with the following code:


java  -Xmx512m -Djava.library.path=".\\lib\\lib\\lwjgl\\native\\windows\\" -jar MyJar.jar

The option "-Xmx512m" aims to allocate more memory for our program. Error, which can cause insufficient memory message is revealed:


java.lang.OutOfMemoryError: Java heap space

4. Correct version of lwjgl
Lwjgl Library, available with the package, unfortunately, resulted in an error:
lwjgl.dll: Can't load IA 32-bit .dll on a AMD 64-bit platform
The problem was described on the page:
http://jmonkeyengine.org/groups/general-2/forum/topic/lwjgl-64-bits/
The solution is to use the library LWJGL version 2.2 +.
I hope these tips helped you:)