Adding plugins to the official directory WordPress
Have an idea for plugin WordPress'a, and some may have already written and do not know how you can advertise.Nimniejszy article closer you the steps to add plug-ins for WordPress PluginDirectory.
Assuming that we have ready and acting plug can go to the next stage which is the declaration of the officialcatalog. For this purpose, we register on WordPress.org and after logging in go to the application form available at this address: Add YourPlugin.
As you can see the form is not complicated. Please note that the description of our plug-in should be interesting and written in English. In the "Plugin URL" enter the address of the home page of our allowance (page in English) or a direct link to the package containing the files of our extension. After submitting our application form will appear directly above it.
The next step in our "journey" is the expectation of acceptance of our allowance, we have to be patient as it may take up to several days. Information about this and our plugin has been accepted will come to us for a mailbox with an address repository SVN.The simplest of terms, a repository is a place where we can send our file extension. To operate the repository, you can use a graphics program such as: TortoiseSVN.
The first stage of uploading files to your server is to download files that are currently located in the repository. So let's create a new folder and execute it in the checkout.

TortoiseSVN options for the folder.
Enter the address of your repository and click"OK".If everything went after we thought we should find a folder in our next three emptyfolders.
All of our plug-in files should placed directly in the"trunk" (ie, our file 'plugin.php' should be included in the "trunk / plugin.php"). It now needs to send our files to the repository, including to the folder with all our repository, we SVN Commit "
You must check all our files are on the list"to send, we also asked for a password to the repository.If you're not sure if all goes as is, we can make sure the repository browsing with the help of "Repo-browser" TortoiseSVN.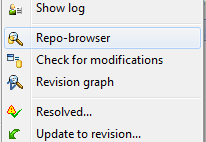 Our trip came to an end, after a few minutes later, our allowance should be available in the official catalog.