Best plugin for WordPress
WordPress's popularity is due, inter alia, a large number of useful plug-ins. I would like to present this, and I think they are needed most. I tried to choose a universal plug-ins, which may be useful regardless of the subject of the page.
All plugin has been tested on WordPress version 2.9.0 . In recent versions also cater to convenience the installation of new additions, do not have to download them to disk. Installing new plug-ins can be done by going to the menu "Plugins -> AddNew", where we have many options to search for interesting add-ones. Click "Install Now" allows immediate installation of the selected plugin.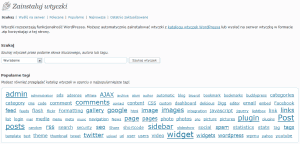 View of the panel selecting and installing the new plug-ins.
1. All in One SEO Pack
http://wordpress.org/extend/plugins/all-in-one-seo-pack/
Plug supporting optimize our site for search engines(Search Engine Optimization). It allows you add to each page / entry unique metatags (keywords, description) and the title. Also automatically generates missing metatags based on tags and category names.
Plugin All in one SEO Pack palenu editing the entry / page.
2. Google XML Sitemaps
http://wordpress.org/extend/plugins/google-sitemap-generator/
Support for generating a special plug-in (XML sitemap, sitemap), which significantly assisted indexing our site by the browser, such as Google, Bing, Yahoo and Ask.com. Thanks generated by us sitemap your browser much faster to reach the furthest recesses of our service. In addition, the plug has a built-in mechanism for notifying the main browser on the placement of new posts or change of content.

Full preview panel allows the Google XML Sitemap
3. TinyMCE Advanced
http://wordpress.org/extend/plugins/tinymce-advanced/
Plug-in that adds entries to the standard editor / page the following functions known to TinyMCE: Advanced HR, Advanced Image, Advanced Link, Context Menu, Emotions (Smilies), Date and Time, ieSpell Layer nonbreaking, Print, Search and Replace, Style, Table, Visual Characters and XHTML Extras.
In addition, the plug has a very interesting feature that allows you to keep tags <p> (paragraph) and <br> (new line) at the time of writing articles and display them in html editor, allowing for greater control of content.
4. WP Super Cache
http://wordpress.org/extend/plugins/wp-super-cache/
This plugin generates static HTML files from dynamic WordPress blog. Html file is generated on the server and will be sent to the browser, instead of processing a relatively heavy WordPress PHP scripts.
Static HTML files will be used for most users, but the exclusion of those who leave comments on the page. Static files are given for:
1. Users who are not logged in
2. Users who have left comments on your blog.
3. Or people who do not watch a password-protected post.
99% of users will use static HTML files.
5. SI CAPTCHA Anti-Spam
http://wordpress.org/extend/plugins/si-captcha-for-wordpress/
This plugin allows you to add captcha (spam-fighting method) to form WordPress'owych comments, registration, authorization. In order to post comments, or registration, users will have to type the words you see in the image. This prevents spam generowanemu by automated robots.
6. Configurable Tag Cloud (CTC)
http://wordpress.org/extend/plugins/configurable-tag-cloud-widget/
The basic version of the additive tag cloud and its features leave much to be desired. CTC allows you to configure parameters such tag cloud like display the number of keywords, font size and color. The plugin is available as a widget.
7. Contact Form 7
http://wordpress.org/extend/plugins/contact-form-7/
One of the many plugins that adds a contact form to our articles. Plugin gives us complete control over the look of the form and mail to be sent.
8. Global Translator
http://wordpress.org/extend/plugins/global-translator/
The plugin allows to translate our website into several languages using automatic translators available on the Internet. Allows you to select the engine responsible for the translation (Google Translation, Babel Fish, Promt, FreeTranslations). Changes the URI of the translated pages and allows you to add them to sitemapy. Based on the caching mechanism and does not interfere with the structure of our database. Allows you to reach more users. However, remember that automatic translation is far from ideal and can also happen that some parties remain untranslated.
9. WordPress Related Posts
http://wordpress.org/extend/plugins/wordpress-23-related-posts-plugin/
Appendix to join to our alerts link articles on similar subjects (matched with tags). In the absence of related articles can display an appropriate message, or placing a randomly selected entries.
10. WordPress Popular Posts
http://wordpress.org/extend/plugins/wordpress-popular-posts/
Plugin that adds to the sidebar links to the most popular pages / entries on our blog.