ForestFire – forest fire simulation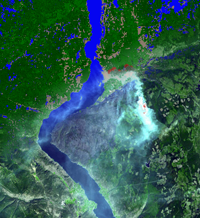 Our program is a simulation of forest fire based on the theory of cellular automata. In the course of its development was driven by our idea of easy imaging and predict likely paths of fire propagation in forests and wooded areas. Such software is true there, but it requires access to specific maps, which most people get just can not.
Was based on the theory of cellular automata, since it makes it easy and intuitive representation of the forest and can freely choose and modify all of the factors affecting forests and the fire spread.
Zpraszamy to familiarize yourself with all submitted by our description of the program, to better understand its operation.
We also encourage you to watch the same simulation. Is available at the following button in the Java Web Start (requires JRE 1.6 +):

All rights reserved. Authors: Peter Jakubas, Arthur Kosztyła, AGH-UST. Any comments please contact us at our emails:
Jakubas [dot] piotr [at] gmail [dot] com
artur [dot] kosztyla [at] gmail [dot] com
Podstrony