Model of forest
Forest can divide into smaller areas of the same square, so you can easily and naturally presented by machine Cellular (CellularAutomata).
Our world is made up of 5layers:
forest:

undergrowth,
undercoat,
canopy,

grid wind
sieve area.
Such a modeled forest has enabled them to correct and more realistic simulations of firespread. It is possible to give different properties to each layer:
different density,
speed of drying,
the impact of wind on each of the layers is different (wind strongly affects the top layer),
different environmental influences.
The other layer is a layer corresponding to the topographic relief and the layer corresponding to the simulations of the wind. All the layers work together and interact wzajemie.
Of course, it was necessary to distinguish the basic types of cells making up the forest to the following:
This allows each of them has a specific, having only its properties. The object tree has the density and moisture content (both in the range 0 – 100). The river has a moisture content equal to 200, while the road is equal to 0 humidity (The river and the road have a fixed value). Both the river and the road stops the spread of fire, if not become additional conditions. Air cells (empty cells) do not have any properties.
Humidity tree converges to the humidity. This happens faster when the difference between these values is large and decreases approaching her. Humidity denser forest slowly converges to the humidity than relative humidity rare woods. Also, it is non-linear relationship.
Cells belonging to different layers of the forest have different neighborhood:
fleece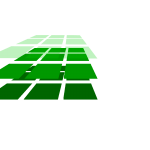 plating
crown
Cell impact on the state of the reaction of neighbors. Humidity trees also coincides with the average humidity of their surroundings, it also happens the sooner the larger is the difference of the humidity. This speed also depends on the layer of the forest, most oddzaływują the cells from each layer of fleece, while the slowest layer of cells from the crown. River Irrigation has properties in all conditions. By contrast, the tree is dried with the burning se neighbors.
Whether the tree ignites depends directly on the number of burning neighbors. The more they burn, the greater the prawdopodobiełstwo that the cell will be set on fire. Additional factors hampering arson is moisture content (the higher the harder it burns down the tree) and density (the smaller the density the lower the burning prawdopodobiełstwo neighbor comes into contact with the tree). In addition, even when the required assumptions are met is 15% chance that the cell to save the (random element)
When a tree is burning its density decreases and the humidity. Be burned and turns off only when its density drops to a level 0 There is no other way off the tree.